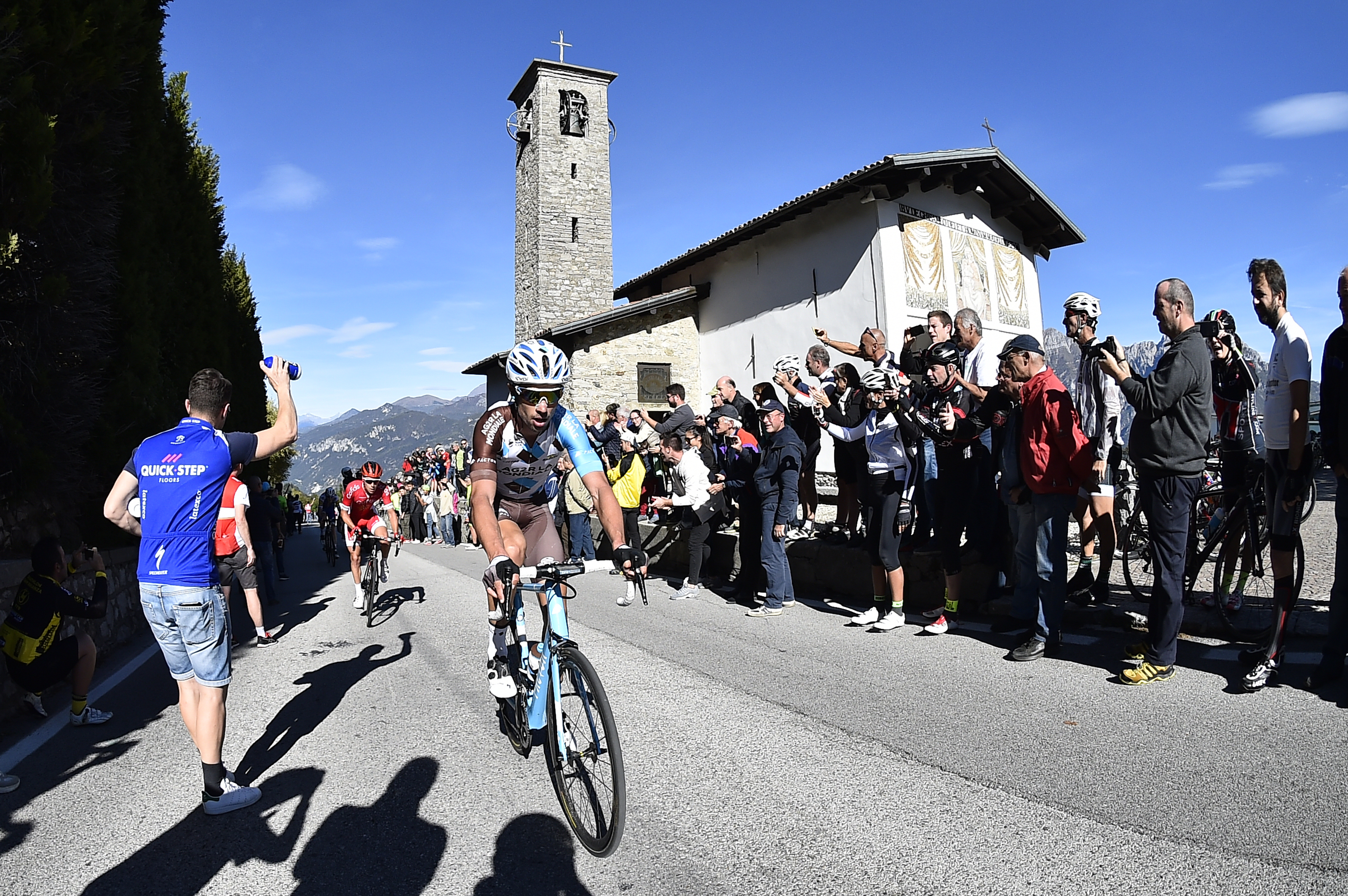 On October 14th 2018 the riders who will participate in the Grand Fondo Il Lombardia will have to face the Ghisallo ascent, one of the epic climbs of the Il Lombardia.
Technically, this is an ascent of 8,5 KM that starts from Bellagio and reaches the Sanctuary of the Madonna del Ghisallo, patron saint of cyclists. The most challenging gradients (14%) are in the first 2,5 KM. Then the route gets more flat and there are also some (trying) descents. In order to reach the Sanctuary, riders have to face the last 1600 windy meters with gradients up to 8-9%. 24 turns, 17 hairpin turns and 533 meters of altitude gap, in all.
But the Ghisallo is not only an "ascent". It is a symbol for the world of cyclism: on the top there is the Sanctuary of the "Madonna del Latte" which, in 1949, was declared patron saint of cyclists. Next to the church, there is the Museum of Cyclism, opened in 2006, which gathers hundreds of memorabilia that the church, with its small dimensions, could not host anymore. In the Museum people can visit the largest existing collection of original Maglia Rosa: more than 50 jerseys gathered thanks to "Giro for Ghisallo" project. Then, in front of the church and the Museum, there is the Memorial devoted to cyclists, thus giving birth to a triptych of passion and devotion for this sport.
Then, from the competitive point of view, the Ghisallo has often been a launching ramp for titanic feats, both at the Lombardia and at the Giro d'Italia. It was discovered in 1919 by Armand Cougnet (who later became the patron of Giro d'Italia): in the route of "the Classic of the Dead Leaves" for the first time at its 15th edition, from then on it has become legend. The first feat was by Costante Girardengo, who in that edition sprinted to first place atop and then won the race. Since then the Ghisallo has been often crucial and always inspiring.