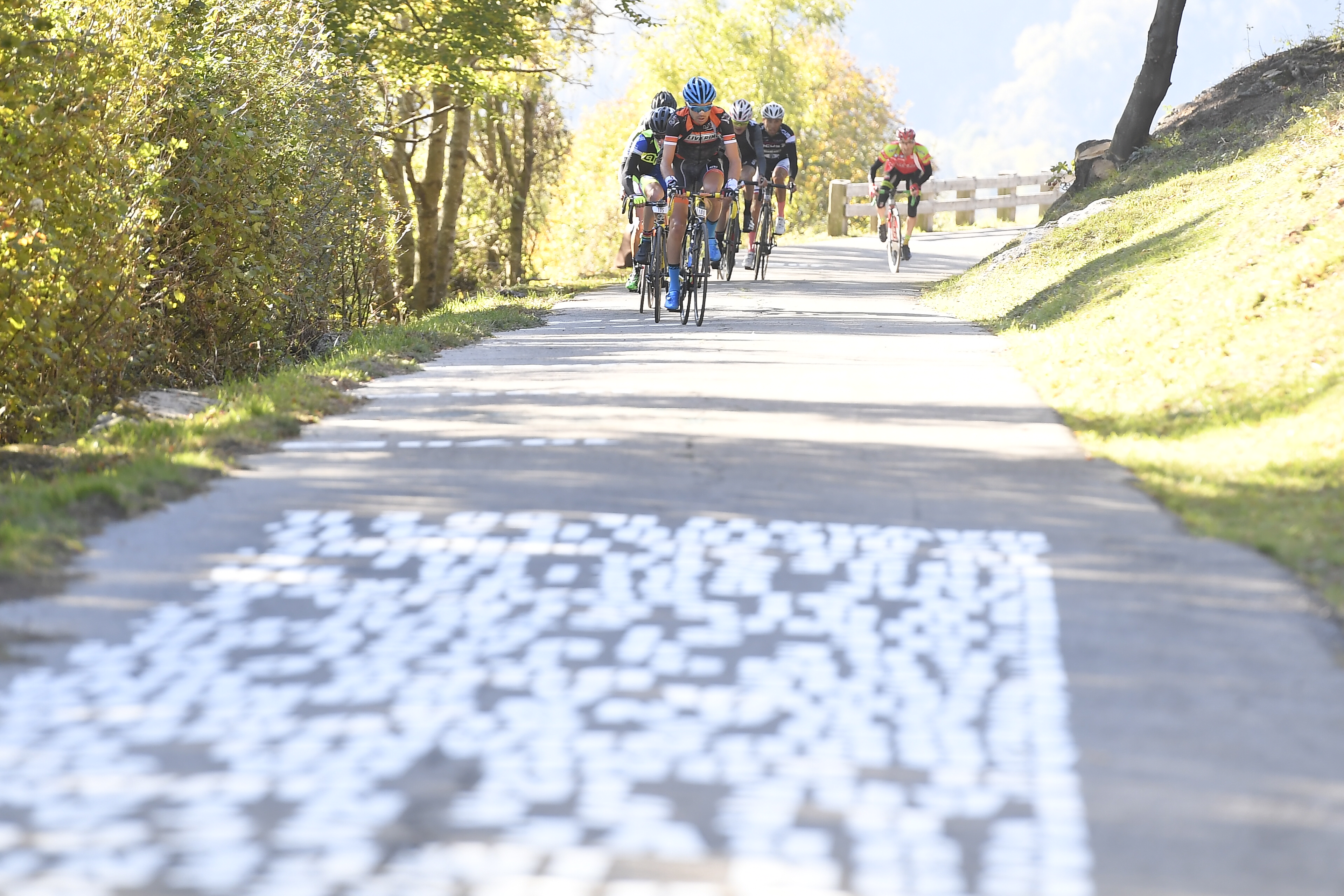 If the ascent to Ghisallo has an almost mystic appeal, the Muro di Sormano, the most difficult ascent that on 14th October the riders of the Gran Fondo Il Lombardia will have to deal with, is a wicked climb, one of those that take the wind out of riders sails and run them out of breath.
At the end of the Ghisallo ascent, the route keeps on climbing: starting from Maglio (495 meters a.s.l.) after seven kilometers riders reach the Colma di Sormano, 1124 meters high. The 629 meters gap has to be overcome without a break, with an average gradient of 9%. The real "Muro" starts from the Sormano village and ends on the top: not even two kilometers, but with gradients up to 27%.
When in 1960 Vincenzo Torriani decided to introduce in the Giro di Lombardia route a climb "that could make the difference", he could not have made a better choice than the Muro di Sormano. Demanding, so much demanding that after three editions it was put aside, because, with the bicycles of that time, many riders had to get off their bikes and walk atop. The Muro was left behind for forty years, then in 2012 it was reintroduced and from then on scares the riders of "the Classic of the Dead Leaves".
On 14th October, at the Gran Fondo Il Lombardia, many riders that have already tried it alone or in group, will face it again. The best riders usually can climb it in a dozen of minutes (which means with a speed between seven and eight km/h), but according to professional websites it can be overcome also in less than ten minutes, not much more than the official record of 9' 02", the record holder being from the 2012 the Spaniard Joaquim Rodriguez.
An interesting trivia about the Muro di Sormano: in order to cheer up the riders, every meter of altitude has been painted in large print on the road. Watching the meters passing by as the top comes nearer is impressive.
Meters in large print are not the only thing that accompanies those who front the climb to the Colma di Sormano: those enough clear-headed to read while riding can find the quotes of big champions such as Gino Bartali. Ginettaccio, sharp as he has always been, told: "A long-distance rider has no choice. He has to reach the beginning of the Muro at least 10 minutes before the others, so that he can overcome it by foot in fifteen minutes more than those that overcome it on their bikes, can reach the top with five or six minutes of delay, thus still having some chance".
Click here to register to the Gran Fondo Il Lombardia.