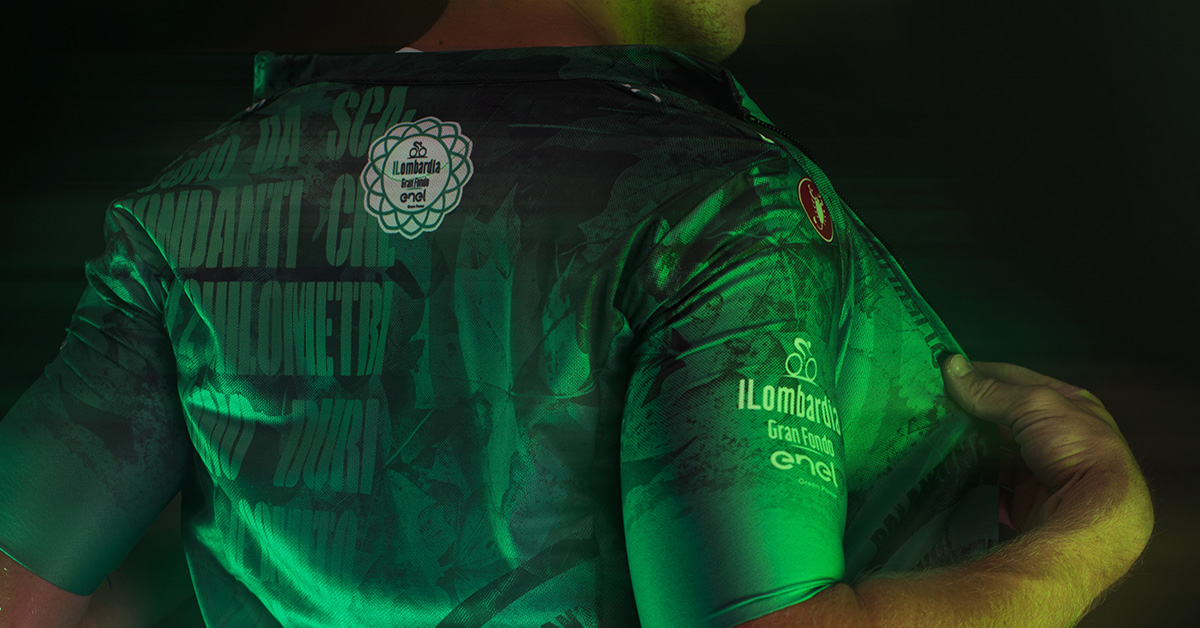 This year, all the participants in the Gran Fondo Il Lombardia will receive the perfect piece of apparel to tackle the route, right in their race pack. The brand new official jersey, designed and manufactured by Castelli, was unveiled at the Technogym Store in Milan on September 7.
This exclusive garment fully highlights all the defining features of the Gran Fondo.
Green and grey are the main colours.
Green recalls the forests and the meadows, the nature that will be the backdrop all along the route, from Cantù to the heart of the Triangolo Lariano, and back.
Grey recalls the tarmac, the road that rises steeply, as the riders grind their way to the top, inch by inch along the punishing slopes of Sormano and Ghisallo, only to enjoy the descent, as if they were on a roller coaster ride.
Moreover, the jersey has a completely different design compared to the previous model.
It is inspired by one of the icons of worldwide cycling: the famous writings along the Muro di Sormano.
On the right side, there is a set of concentric circles – those that are found along the final metres of the climb, bearing the names of the surrounding peaks (Barzaghino, Palanzone, Resegone, Corni di Canzo…) – as a way to remember that the Colma di Sormano is not just the place where the effort will be over for the riders, but also an extraordinary vantage point.
On the left side, there is a quote, picked among the many sentences written on the tarmac along the Muro:
"Saranno duri quei 2 chilometri abbondanti che ci sono da scalare in quanto presentano curve secche con impennate paurose. Sarà difficilissimo l'ultimo strappo".
These few words by Gino Bartali – who was not much of a talker – serve as warning and relief for all participants, and roughly translate as "those 2-or-so kilometres will be tough. There are sharp bends, with steep gradients. And the final spurt will be especially painful."
For the participants in the Gran Fondo Il Lombardia, that won't actually be "the final spurt", though. The fearful Ghisallo awaits, after the Muro di Sormano, before they can finally go back to Cantù, heading for the finish.
Just reaching the summit, however, will have them feel like heroes – clad in their forest green and asphalt grey jersey, with Gino's words printed on the chest. And it may almost feel like it is all downhill from there.